Fleshquake
This is love: I secretly believe I´m unlovable, and then I meet you. You tell me that you love me. I love you because you love me, but that has nothing to do with you; it´s about you loving me. I only love you because I imagine myself unlovable, and you, against all odds, love me. And then, and some point, you do something that makes me think that you don't love me, which I´m more ready to believe than you loving me because I'm unlovable, so I stop loving you; I only love you because you love me, and I'm unlovable.
I especially like this dialogue from the film Trigger by Bruce McDonald. Who doesn't want to be loved? Whatever the cost? Silicone implants, body fillers, foam pads and lingerie that lifts the flesh from falling into the natural force of gravity. We see naked bodies on screens, though we are still scandalized by natural raw nudity.. Soft Shucks (2019), a project by Greta Facchinato and Raquel Sánchez Gálvez, arises from an interest in aesthetic implants. Soft shields, usually hidden under the skin. The installation is part of the group exhibition called What's a Body if Not a Shell where together with two other artists, they make an analogy between shells and the molds in sculpture. Most of the time finalized sculptures are seen as the artwork and the molds that allow those to exist are hidden from the public.
Starting in 2019, Greta Facchinato and Raquel Sánchez conducted studies on cosmetic surgery and medical silicone in order to be able to reproduce body implants for breasts and buttocks with a biodegradable material as agar-agar. This, although at first sight might resemble silicone, on the contrary has fragile properties and a short life cycle. As Greta and Raquel explain, Soft Shucks allowed us to reveal the friction between interiority and exteriority, meaning the vulnerability of what is covered and the shield that is or is not exposed to the external eye. Seen from this point of view a shell (or shuck) can be a protection but at the same time a burden to the inhabitant's body.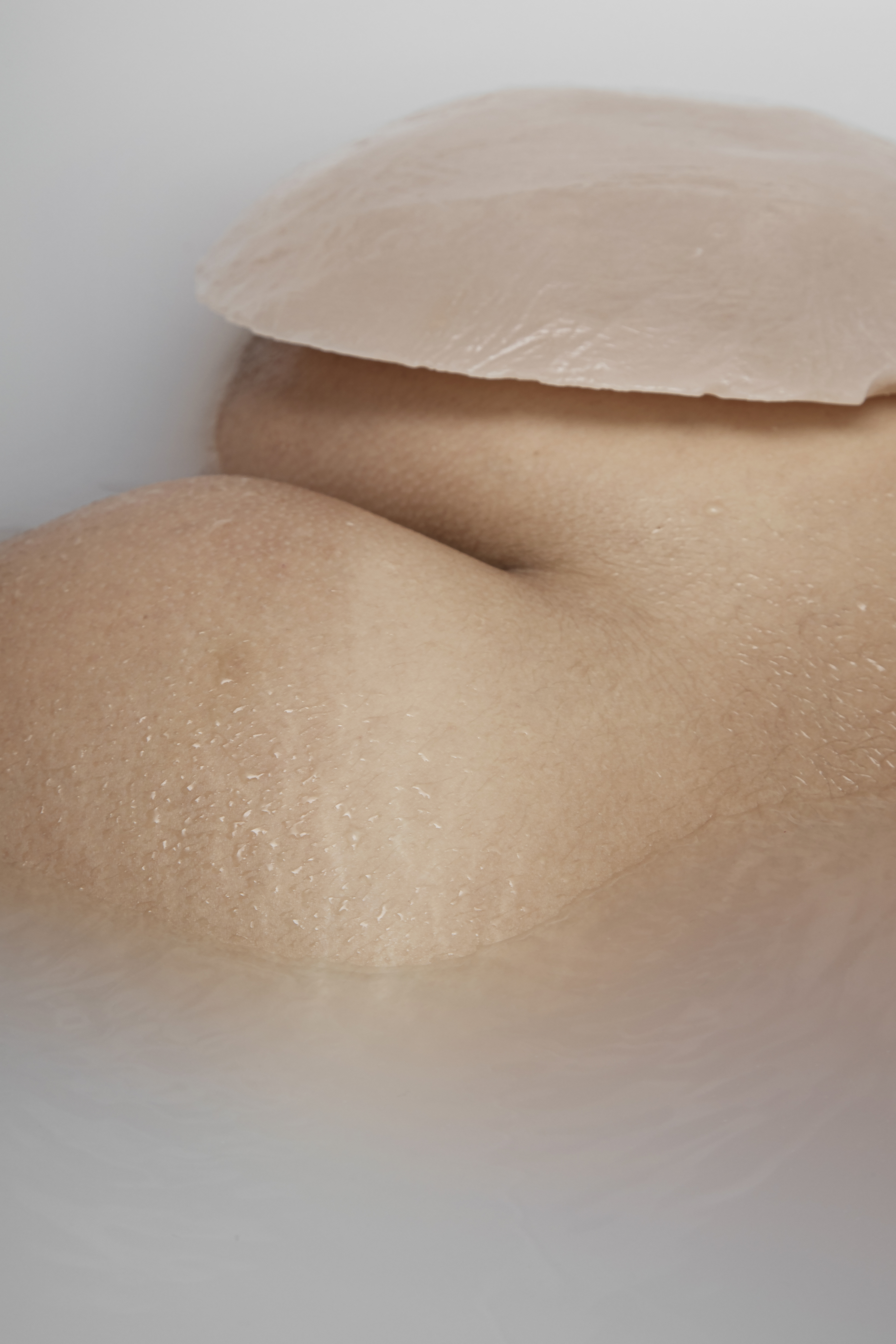 Their following project together, Fleshquake (2020), was realized during their Art Residency at De School. The work revolves around the freedom of movement, beauty idealizations and critical society which stems from the aspiration to challenge and question Western notions of beauty, normality and decency. It consists of a movement research through the inclusion and the development of tailor-made costumes. Body enhancements are revealed as garments in order to redefine the "plastic body" and its standardized perfection. Nowadays users connect with anyone, anywhere, at anytime in a community where images and videos transmit the rules directly through bodily discourse, images that tell us what clothes, body shape, facial expression, movement, and behavior are required. By emphasizing constructions of femininity, sexuality, gender politics and the often objectified dancing body.
1. Could you tell us a little about you and what brought you to work together ?
RAQUEL: Greta and I met each other while doing our master´s in Artistic Research at KABK in Den Haag. At the end of the course, we did an art residency in Scotland during which we were roommates; it was then when we could share more about our practices and interests. We both have backgrounds in sculpture and performance and an interest in dance and movement.

2. Your research is grounded in the western constructions of femininity and sexuality. What's the role of the body in your work?
GRETA: It is at the core of our research and work together. Sculpture and performance make us constantly aware of the concept of space and its relationship to the body as an entity. In Fleshquake, the research focuses on the "plastic body" and how it is advertised in the Western society. A body that becomes aseptic, poreless, hairless, and sculptured under specific idealizations of beauty. Although it can be this way it is not everlasting, it can be fragile, soft, and changing. The project exposes metamorphoses in its power of questioning standardized beauty and gender constructions.

3. How did this work around female implants begin?
RAQUEL: During our residency in Scotland we danced every day. This led us to speak about how female bodies are generally pictured in music videos, Instagram, and other social media. Once back in the Netherlands we dived more into these ideas and started a theoretical and material research.

4. Why did you choose this biodegradable material agar-agar ?
GRETA: We first looked into cosmetic implants and how they are made, specifically for breasts and buttocks. The original material used to produce them is medical grade silicone. While learning how to realize implants with silicone we started to question if using another material would allow us to add layers to the project. This is when we thought about agar-agar, a specific type of seaweed that once cooked and solidified looks exactly like silicone. Agar-agar is biodegradable and has a short life cycle.
For us, this meant working with a material that in the end is more similar to the nature of our bodies. Because it is fragile, it can break or leak. The nature of its materiality influenced the movement research with the performers. We worked with them with different exercises in the relationship to the prosthetics: from being careful and imagining them as part of their bodies with softness, to being ecstatic and trying to expel them.
5. Can you talk a bit about the video project Fleshquake? How was the process of creating these tailor-made clothes with implants? How the movements of the dancers relate to the research?
RAQUEL: The video project was realized in a period of a two months art residency at De School Amsterdam. Developing the tailor-made costumes together with the performers was the first step. Silvia Sandri, our costume designer worked days and nights for three weeks in a row, in order to adapt the prosthetics to each body while allowing flexibility of movement. It was not an easy task!
Filming the project was real teamwork, between Greta and me but also with all the other creatives involved. The performers had very good synergy, they moved following improvisation principles and our guidelines. Specifically, we developed a storyboard with the scenes we wanted for the video. I took care of filming the scenes in both analogand digital together with photographer Alberto Omiste.
Greta guided the dancers through the movement research based on the quality of movements she previously selected. Sound was very important too, that is why Greta put together a playlist of tracks to stimulate different moods. The official soundtrack for the video of Fleshquake was composed by artist Valentino Russo who made real our sound fantasies for this project.
6. Finally, What are your plans for this year? Do you have any ongoing project?
GRETA: Yes, considering the unpredictable times we are living, we are thinking of a new project about the ability to let go related to mental health. We will not reveal too much yet but we will promise you to keep you updated once it is out.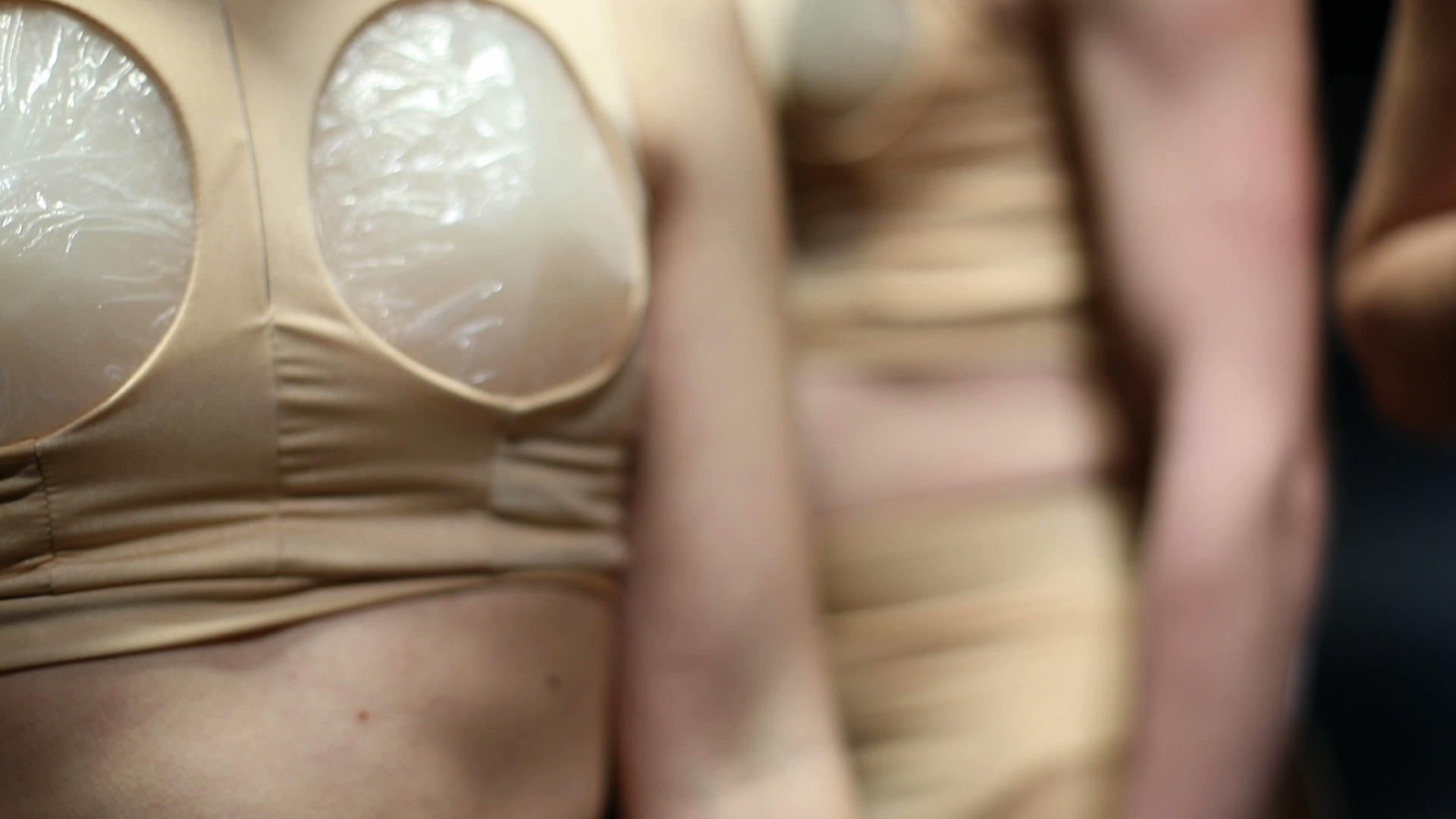 CREDITS

Soft Shucks
(2019)
Artists: Greta Desirèe Facchinato & Raquel Sánchez Gálvez
Photography by Yres Isabella
Fleshquake
(2020)
Artists: Greta Desirèe Facchinato & Raquel Sánchez GálvezSilvia Sandri (costume designer), Valentino Russo (sound composer and video editing), Alberto Omiste (photography), Federica dalla Pozza, Alkis Barbas and Saskia Wieser (performers)
Generously supported by De School Amsterdam, Amsterdams Fonds voor de Kunst and Biovegan (DE).