Emanuele Tozzoli
Emanuele stepped into the art world at the very young age of 8, together with his father an artist who has been painting for over 40 years. He extended his studies to sound engineering and completed his formation as decorator and restorer of wall paintings in Turin. Now he is carving out a name in the international gallery circuit, with recent participation in galleries such as Le Dame Art Gallery (UK), Saphira e Ventura Gallery, New York (USA), Van Der Plas Gallery, New York (USA) or 19Karen Gallery (AUSTRALIA).
Try to stop dreaming, try to stop fearing. A delicate soundtrack of loneliness and past seems to be playing when you see Emanuele´s work. The narrative follows a dreamlike pet creature, which Emanuele has invented, as a kid makes his imaginary friends. These characters are met with indifference. They are silently yearning for attention. Royal bodies fading out into closed rooms, warriors in still movement, mythical animals. For Emanuele, each painting becomes the materialization of an introspective and extravagant world. His impulsive lines and purposeful censorship creates scenes of adult fairy tales, all in explicit conversation with the symbols and rich saturated tones of Basquiat or Picasso.
Eat light, see darkness
evokes a disfigured monarch on a garish otherworldly background. Tozzoli´s crowns suggest his understanding of art history. Kings symbolize their own majestic power, the freedom to do what they want without any fear of punishment. In our fantasies we are always the kings. We want to be the kings.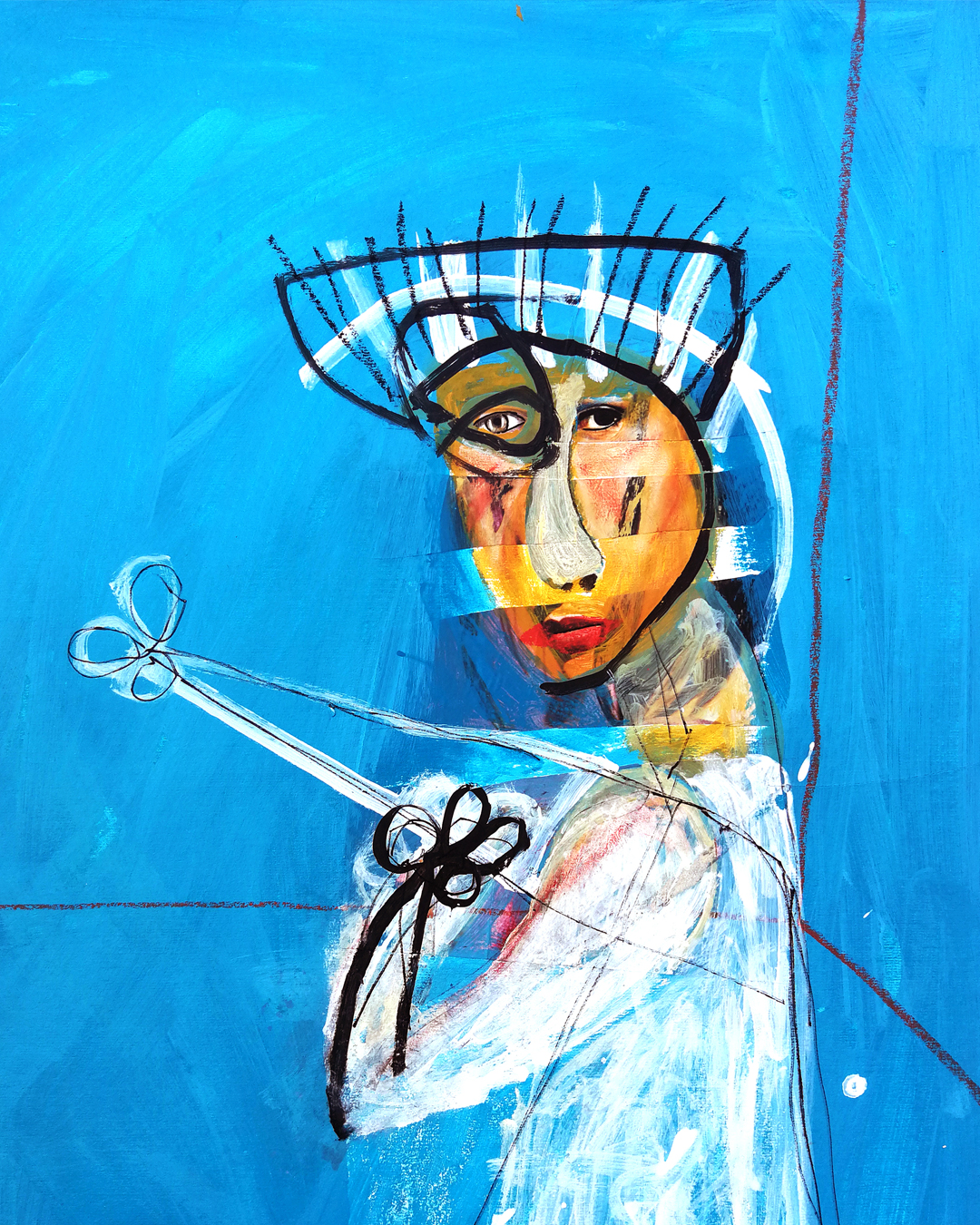 The tired eyes are also a recurring feature in the paintings. They are always staring at the viewers, trying to touch them, to deliver a message. They are frequently the most realistic part of the paintings, playing the role of bridge, the eyes are the voice. The characters are discovered and taken by surprise, in the intimacy of their own perversions. They are never excited or glad to see you. They prefer you to vanish and leave them to their own deviance. Mouths are not to speak if they do not want to. If you see a Tozzoli´s painting you have a sort of sense of disruption. As if you were meeting with your darkest and most profound part. A date with your own Freudian Id.
Instagram