Part of what makes viewing Fournier´s paintings so intriguing is that despite the simplicity of the shapes, there is a distinctive sense that an enigma is lying behind. A constant state of showing and hiding. Figures suddenly erupt into assembled piles of colour. These figures are directly readable and yet carry a heavy symbolic load. Bertrand Fournier partly lets us see where he is going with the thought and party wander off in our own thoughts.
Resembling a game-play diagram just before going haywire, the fact that he works in a psychiatric immediately springs to my mind. I see every painting as an extravagant game board. The radical colour intensity succeeds in producing contrast. There is life in every "UPO" (unidentified painting object). They get sick and they immediately forget, they spring back and forth. It triggers a sense of uncanny freedom of a child or an individual who is out of his mind. Joy and melancholia shifts to one another, as the two sides of the same thing. Lines and shapes float rather than settle on the background, tempting us to get rid of our boredom.
Fournier's artistic training is entirely self-taught. He started posting his images on Instagram three years ago, he was quickly spotted by gallerists around the world: Germany, London, New York, Australia, Belgium, France. Bertrand Fournier´s next solo show will be held in May at The Delphian Gallery, London.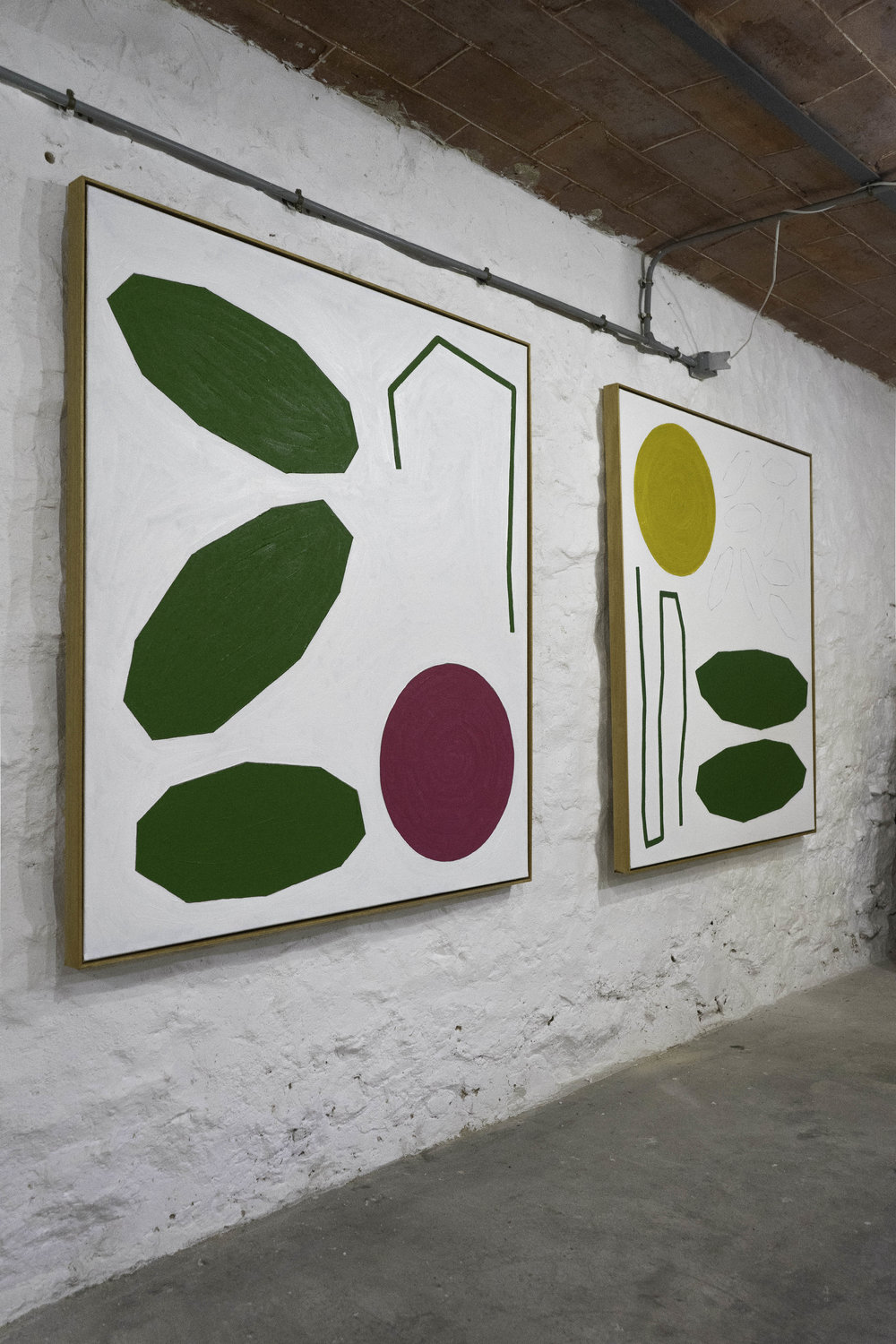 1. We read that it all started with a gift from your mother a few years ago. Can you tell us how was the process to become a recognized artist?
Things were done naturally, becoming an artist was not my life goal. I painted, I took a liking to it, I posted my paintings on Instagram and people joined. The status of artist was not the aim itself, the purpose was being able to express my ideas.


2. How do new ideas come to you?
Every situation in my life, every event (even the most banal) makes me wonder How I can transform this data into a canvas. Everything starts from a word in general, then I try to translate this word into my canvas. It is a translation task, in fact.

3. Are there specific experiences or themes that you find particularly inspiring?
Not especially, on the contrary, I prefer to move as quickly as possible to another theme. Perhaps for fear of locking myself into a theme. What I love the most is exploring things.
4. Would you say that your work is introspective?
I am inspired by What surrounds me, so necessarily it is, we can say that my work is like a kind of summary, not of my life but of my thoughts, my memories in painting. A person asked me one day Why I painted a bo-bun. I simply replied that I had eaten one the day before. However, It is not always like that. My abstract work or some paintings like "Moise at the swimming pool" come from a different point.


5. How would you describe your aesthetic?
An art critic has qualified my work as "suggestive abstract", I like it very much because there is often a direct symbolism in my paintings. At first glance, they could appear to be a pure and hard abstract work. However, once people discover the title of my paintings they realize that they are actually facing a figurative work.


6. Can you talk a bit about your energetic color scheme and the role that color plays for you?
The colors I use do not have a decorative purpose, it use the symbolism of the color. The forms that I use, figurative or not, associating with each other reveal this very colorful association.
7. Sometimes you use more recognizable shapes, everyday objects that we are all used to, such as vegetables or cooking utensils. Do they have a specific meaning or message for you?
I have a common life. I am inspired by What surrounds me, cooking is necessarily a big experience, something really simple like cutting a lemon calls me. I see an association of form and almost perfect color. Nature offers us the most beautiful colors, I only extract the essence.


8. Do you have a piece of your own that is your favorite? Could you explain why?
I am very critical with my work. I painted about 700 canvases and I destroyed a hundred, so I had to publish 600, at some point I just decided to stop counting. It may seem a huge amount, but among them, there are only ten paintings which I am really happy with.

Out of respect for the collectors, I´d rather not tell you.

9. What do you think the works of other artists have influenced you and which ones?
Of course, I have caught up a little with my artistic culture. I have recently discovered artists like Gunther Förg or Raoul de Keyser, whose work is excellent. I hope that my work in the future can be part of their lineage.

10. Future ideas or projects that you have in mind?
This year will be rich for me. I have many solo show planned (Mannheim, London, Paris, Antwerp and Beverly Hills) and two Group show (Paris, Sydney), so I have a lot of work to do, which is very stressful but at the same time very exciting.

I also have a documentary film that I would like to realize. I have this idea in mind for a while, I hope that I could focus on this project in 2020.

The rest we will see, life is so surprising.